Lymphatic filariasis considers the new world of modern digital technology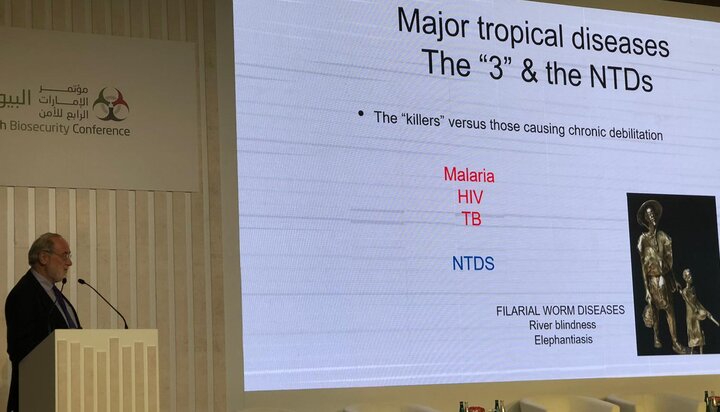 At the recent 4th UAE Conference on Biosecurity held in Dubai on artificial intelligence and bio-security Charles Mackenzie, representing GAELF, discussed the different ways that the new digital technology could be used to improve the activities needed to achieve diverse medical goals using, as an example, the elimination of lymphatic filariasis (LF).
It was clear from the very diverse and interesting presentations covering many areas of medicine and medical events at the meeting, that there were a number of new digital technologies that we in the NTD world could benefit by using as we move into the 2020-2030 phase of our programmes. Although much of the meeting was aimed at national biosecurity for acute infections there were many technologies and digital approaches that are pertinent to NTD programmes such as lymphatic filariasis and onchocerciasis. These technologies included voice recognition, Virtual Agents, the more agile access to data using artificial intelligence ("Big Data" approaches), and the use of automatic systems to improve quality and relieve programmes of repetitive procedures. All of these could be seriously considered as we try to improve the NTD programmes and our documentation and early detection of important problems.
The current use of mobile phone technology in lymphatic filariasis programmes, as has been spearheaded by the Centre for Neglected for Tropical Diseases at the Liverpool School of Tropical Medicine and others, is clearly a very good first step in embracing the new digital world. It seems pertinent that now, with so many digital innovations available to improve the efficiency of our programmes, to reduce error and repetitive tasks, to enhance communication and empower those working at the field level, and better manage our data, that LF carefully considers all that is now available in the rapidly changing digital world and artificial intelligence.
What was also very clear from the meeting in Dubai is that we need, as a leading NTD programme, to be aware of what is now available in this ever-changing new digital world and use it wherever it is appropriate.
Charles Mackenzie
November 2019