The Kerala story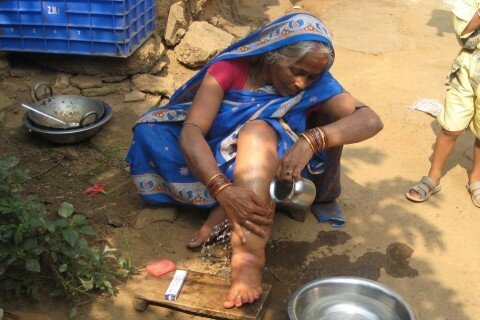 Important activities in establishing a strong morbidity management disability prevention (MMDP) programme - The Kerala story
Professor Suma Krishnasastry
Kerala is the southernmost State in India where, of the 14 districts, 11 are endemic for LF with both W. bancrofti and B. malayi present. The GPELF programme has been fully active in all 11 districts since 2004 and is now at various stages of MDA and TAS. The MMDP programme has been initiated in some districts.
LF has been taken up as a programme of the Sustainable Development Goals (SDGs) by the Govt. of Kerala.
The targets are to achieve:
elimination of LF as a public health problem in Kerala by 2020
100% geographical coverage of minimum package of care for MMDP for those suffering from the disease.
Morbidity management and disability prevention
Goal
100% geographical coverage of the recommended minimum package of care. To attain this there should be at least one health facility designated for MMDP services per Implementation Unit (IU).
Strategy
Assessment of disease burden
Estimates of the number of lymphoedema and hydrocele cases per IU is important for proper planning and to decide on the number of facilities to be provided per IU, allocation of funding, assessment of success of the programme etc.
Availability of MMDP services
To have 100% geographic coverage of MMDP, each IU should have at least one facility providing minimum package of care i.e. lymphoedema management, treatment of acute attacks (ADL) and surgery for hydrocele.
Preparedness for, and quality of MMDP services
In addition to development of facilities, it is important that the service provided should be of good quality. It is mandatory to have an assessment of quality completed in 10% of the designated facilities of the State using the Direct Inspection protocol.
Activities
To achieve the goal, the most important activity considered was capacity building. There has been developments in knowledge regarding the pathogenesis and pathology of the disease and management. In order to fill the knowledge gap capacity building is essential.
Training
The Director of Health Services and her team have selected the health facilities (Taluk Head Quarters and Community Health Centres) where the recommended minimum package of care would be provided. Health care providers were selected for the training from these facilities. The training was given to a total of 184 health care providers in 6 batches of 3 days each by the Filariasis Research Unit, Govt. T D Medical College, Alappuzha. The dates of training and number of health care providers trained are given in Table 1.
The training was imparted as per the WHO training module which has components detailing background, clinical and programmatic aspects of LF. The objectives of the training are:
to understand the background, requirement and current status of the GPELF
to understand LF clinical disease focusing on lymphoedema and hydrocele, acute attacks (ADL) and recommended minimum package of care and
to know about the various aspects of the GPELF such as situation analysis, development of a health facility to impart MMDP services, assessment of quality of services, reporting of activities.
The training started with a pre-test to assess the basic knowledge of participants and also to assess their achievement at the end of the training by a post-test. The training included interactive sessions, a photo quiz, interaction with patients who had lymphoedema including history and physical examination and hands on training on limb hygiene measures and details of lymphoedema management. The participants were divided into groups according to their institutions and given a group work to develop a proposal to start the MMDP services at their own hospitals. All participants were very enthusiastic about this and all the groups have presented good proposals for imparting services to patients with LF. This included appraising their Superintendents and District Medical Officers (DMOs about the need for initiating the MMDP services, training of the other health care providers in their own hospitals, infrastructure modifications, procurement of necessary materials for management of lymphoedema and acute attack– availability of antibiotics and other drugs, antiseptic, antifungal ointments and other items and necessary materials for limb hygiene measures. Other important points discussed were IEC activities and maintenance of documents and reporting.
Post training activities
On return to their hospitals after the training, the participants had discussions with their Superintendents and DMOs, organized training programmes for doctors, nurses and other health care workers, carried out IEC activities and have started MMDP clinics in areas known to have patients with LF clinical disease. In total 82 MMDP clinics were started in the State of Kerala.
It is always better to get the situation analysis and assessment of disease burden finalised before the establishment of a health facility to provide a minimum package of care. However, here the proper burden of assessment was not finalised in any of these districts before establishing the MMDP clinics. The trainees felt that they had not taken adequate care of the patients so far because of their limited awareness and lack of facilities. After the training, they understood their knowledge gap and that, with their extended knowledge, they were capable of providing a quality service to the LF patents which was very easily affordable. The interaction with the patients and hands on training had made them more confident to manage these neglected patients and also become champions to train others so that the MMDP programme could be integrated with primary health care.
Current activities
Every clinic has lymphoedema and hydrocele patients. The lymphoedema patients are trained on self-management including hygiene, skin and wound care, elevation of limb, exercise and using comfortable footwear. They are followed up by the health care workers who reinforce hygiene practice messages whenever required. Hydrocele patients are referred to secondary or tertiary care hospitals for surgery. In many of the clinics the number of patients is increasing due to IEC activities and social mobilisation
With this SDG programme currently in Kerala each IU has more than 3 centres where patients can access management and also where they can visit in an emergency
Way forward
An analysis of the number of patients attending the clinic, patients with ADL, the percentage of improvement, improvement in quality of life must be conducted in each IU to gauge the impact of the programme. Similarly, an assessment of the quality of the services should also be undertaken.