Despite challenges, Yemen eliminates lymphatic filariasis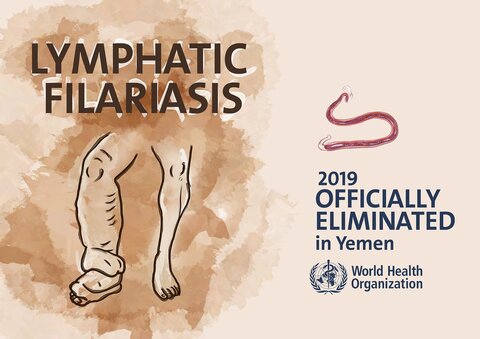 15 August 2019 | Geneva | Sana'a -- The World Health Organization (WHO) acknowledges the achievement of the Republic of Yemen for eliminating lymphatic filariasis (LF) as a public health problem, making it the second country, after Egypt, in WHO's Eastern Mediterranean Region to achieve the criteria.
The accomplishment comes after more than two decades of sustained disease control and prevention measures, particularly over the past few years with the country facing multiple challenges, including war, instability and insecurity.
"This is a tribute to the years of hard work by hundreds of thousands of health workers and volunteers who have braved extremely difficult field conditions to deliver treatment of this disease to the Yemeni people." said Dr Altaf Musani, WHO Representative in Yemen. "We remain committed to providing continued care to those affected and are cognizant that this success means that future generations will no longer suffer from this debilitating disease."
Fifteen countries are now acknowledged for achieving elimination of lymphatic filariasis as a public health problem.
Lymphatic Filariasis in Yemen
In Yemen, lymphatic filariasis (also known as elephantiasis) was recognized as a public health problem in 2000. More than 100,000 Yemenis were at risk of infection. Yemen's achievement was made possible by integrating interventions with other diseases, including leprosy and the availability of donated medicines. Technical guidance was provided by WHO's Global Programme for the Elimination of Lymphatic Filariasis with support from the Global Alliance to Eliminate Lymphatic Filariasis.
Yemen joined WHO's global campaign and initiated a national elimination programme in 2001 that addressed both morbidity management and disease prevention. The Programme worked to eliminate the disease as a public health problem by delivering single annual doses of Ivermectin plus Albendazole to those affected through large-scale treatment of people in areas where lymphatic filariasis was endemic. Transmission Assessment Surveys (TAS) conducted in 2013 and 2016 confirmed that Yemen had met all criteria for achieving elimination.
"Even in this non-permissive environment, WHO alongside local health partners will continue to improve approaches to morbidity management, focusing on the treatment of patients with clinical symptoms" said Dr Musani. "We plan to reinforce the national disease surveillance system, in order to maintain zero transmission."
Morbidity management and disability prevention are vital for improving public health. These are essential services that should be provided by the health care system. People with Lymphoedema must have access to continuing care throughout their lives, both to manage the disease and to prevent its progression to more advanced stages, while patients with Hydrocele should have access to surgery.
The disease
Lymphatic filariasis is caused by infection with parasitic worms. The infection impairs the lymphatic system triggering abnormal enlargement of body parts, causing pain, severe disability and social stigma.

The larval stages of the parasite (microfilaria) circulate in the blood and are transmitted from person to person by mosquitoes. The painful and profoundly disfiguring visible manifestations of the disease, Lymphoedema, Elephantiasis and scrotal swelling occur later in life and can lead to permanent disability.

Almost 886 million people in 52 countries worldwide remain threatened by the disease and require preventive treatment to stop its spread. Regular large-scale treatment conducted annually for 4-6 years reduces the density of microfilariae in the bloodstream and prevents the spread of parasites to mosquitoes